Food delivery deals that won't destroy your budget like the Death Star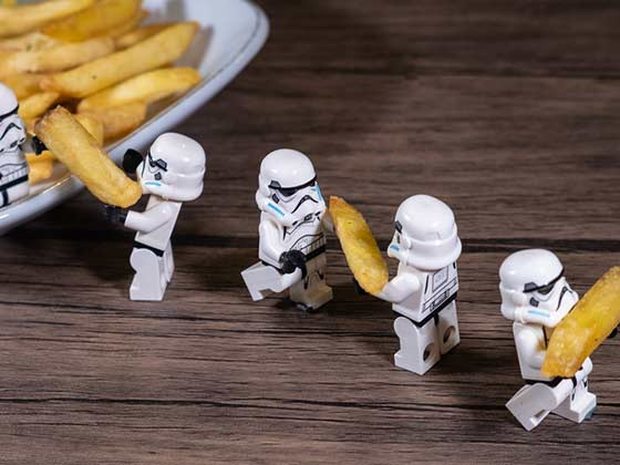 It's always a good idea to host friends and family, and Star Wars day gives you a great excuse to have a movie watching party. Of course, any good party has great food, so lean into it with Star Wars-themed snacks.
For those of you who are crafty in the kitchen, search for online recipes. Our quick search led to some truly awesome recipe ideas, from simple Tie Fighter cheese and crackers to chocolate dipped marshmallows called Wookiee bites. You can also make blue Bantha milk and light green Yoda sodas.
No matter what you make, you'll need a grocery store run. Save yourself some trouble and use DoorDash to deliver your groceries. Simply download and log in to the app to see a list of participating stores near you. You'll find most large, chain stores like Walmart, Safeway, Target, Wawa, and more. Then, choose your store and begin shopping. You'll pay a delivery fee of $3.99 for each order. Or, sign up for sign up for DashPass. For $9.99 per month, you'll get unlimited free delivery on any order over $12, which includes grocery delivery and food delivery from your favorite restaurants. You can also use a DoorDash promo code , which could save you as much as 30% when you spend at least $15.
If you're more of an eater than a chef, but you still want to celebrate with themed goodies, we've got you covered. Order your Star Wars menu and get it delivered to your house with Grubhub. It'll be there faster than an X-Wing fighter.
Grubhub partners with thousands of restaurants across the country, which means you'll have a ton of options when it comes to nailing down your fun meal. Before you start to order, make sure you download the app to peruse the restaurants closest to you. You'll often find delivery specials on food and free delivery that are only available when you log in. Plus, first time users can apply a [Grubhub promo code]( https://coupons.cnn.com/grubhub) to save 20% off their first order.
So, go with Mediterranean food and serve Jabba the Hummus and Obi-Wan kebabs. Or go with pizza and add your own toppings to create BB-8, Chewbacca, and Darth Vader. You could also try wings with shapes that might remind you of different spaceships. For dessert, try Wookiee cookies or a decadent chocolate Dark Side cake from your local bakery. You can never go wrong with donuts, so get a dozen chocolate glazed classic donuts, reminiscent of Princess Leia's buns. No matter what, you're bound to find a ton of great ideas to help make yours a watch party to remember.
Otterbox deals that would make Obi-Wan proud

Our phones might not be as high-tech as the Millennium Falcon, but we still want to protect them from destruction. Avoid dings, scratches, and the dreaded shattered screen with a new phone case from Otterbox.
Whether you have an Apple or a Samsung device, Otterbox has got you covered with a range of screen protectors and cases. You can show your Star Wars love year-round by shopping a collection of cases with designs inspired by the saga. Check out the graphic All or Nothing design for 30% off. Or, shop the Droid Scramble, On-Ahch-To, or Resistance Red designs for just $38. If you're into villains, you can nab designs with a Stormtrooper, Kylo Ren, or the ultimate baddie himself, Darth Vader, and save up to 30%.
Right now, you can save an extra $10 on your purchase when you use an Otterbox promo code .** Plus, you'll**get free standard shipping on orders of $50 or more. Don't go to the Dark Side and leave your phone unprotected. Use the Force, and a coupon, to help you save money on a new Otterbox phone case.
We hope these savings tips and ideas help you take full advantage of celebrating Star Wars Day in style. Enjoy saving with this year's deals, and May the Fourth be with you!